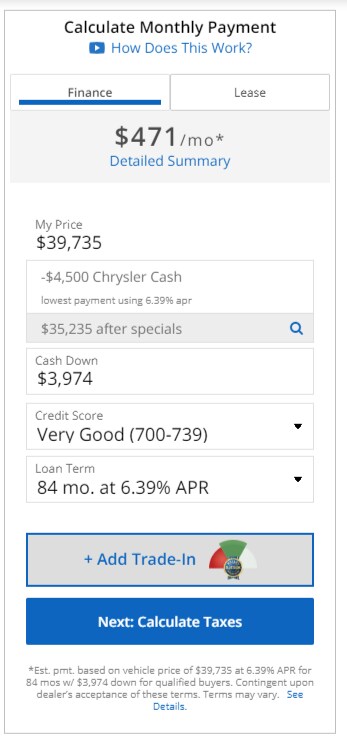 1. Customize Your Car Payments
Need to determine an affordable monthly payment range with all financing figures considered? Our personalize my payment Shop Online tool helps you account for factors such as auto loans, down payments, interest rates and beyond. This resource provides necessary context that gives you a boost in confidence when purchasing or leasing your next Honda or Chrysler, Dodge, Jeep or Ram model.
2. Value Your Trade-In

To establish a baseline for negotiations and save significant time in the evaluation process of a current daily driver, we feature a tool! Generate an estimate quickly by submitting inputs relevant to the background and current condition of your car. Vehicle marketplace data will objectively measure its estimated worth. We can then proceed efficiently with the trade-in process and complete this transaction conveniently.
3. Apply for Financing
Used to filling out paperwork at the dealership? Save a trip and subsequent time through our digital financing portal. From the comfort of home, you can 
apply for a loan
 on your own terms and complete this crucial step with plenty of time left over.
4. Schedule a Test Drive

You're almost ready to enjoy your new ride! The only step left is the all-important test drive. Save even more time and use our Shop Online tool to schedule a test drive at a time that's convenient for you. We'll have the car waiting for you when you arrive at the dealership.

Get Started with this Time-Saving Online Shopping Tool and contact us with questions!
Take advantage of our Shop Online tool today and swiftly move financing right along for your next purchase or lease! If you have any questions, our friendly staff at King Auto Center is simply a quick phone call or email away. We look forward to hearing from you.